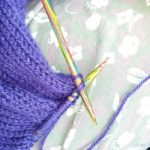 Convertible Gloves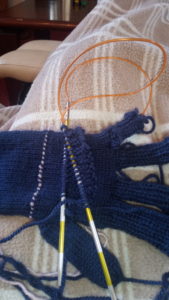 Hello and welcome to The Ordinary Knitter – Convertible Gloves, the knitting podcast that's (mostly) about the projects, sponsored by Ecoflap home draughtproofing products including the Petflap draughtproof pet door. Find out more about the Petflap at thepetflap.com.
My name is Heather and I'm @theordknitter on Twitter, @theordinaryknitter on Instagram and @ordinaryknitting on Ravelry. This time: what happened to the alpaca socks, dishcloth rundown, convertible gloves and of course, Christmas knitting.
Apologies for the sound issues in this episode. I had lots of technical problems, which is also why I sound a bit grumpy!
Ft patterns
Convertible Gloves
Let me start by telling you that gloves with individual fingers are an order of magnitude more complicated than making mittens. Convertible gloves are fingerless and have a little hood that you can flip over the tops of the fingers to keep them cosy when you don't need your fingers for anything. Of course fingerless is the greatest misnomer – this particular pattern has four half fingers and a thumb on each hand. Alternatively you can just knit one big cuff across the knuckles.
These were an enormous learning curve for me. From swatching to putting stitches on stitch holders, I learnt a tremendous amount, which stood me in good stead.
The anatomy of knitting convertible gloves with fingers goes more or less like that: knit the cuff then switch to stocking stitch and go up half a needle size. At so far along, knitting from wrist towards fingers, you put in a purl row which later on you come back and pick up along to make the flap. Around this point you begin to create the thumb gusset, and shortly afterwards you create the little finger. The thumb gusset stitches go on to a stitch holder while you carry on the nand for a little while, then most of the hand stitches go on another stitch holder while you start the little finger. There's a lot of stitch holder action and I found lengths of 4 ply less intrusive than metal stitch holders while I knitted, but more of a pain to restore stitches from.
This DROPS pattern is what I call a knitter's pattern, in other words the instructions are sketchy and not for a beginner. After a page and a half of instructions for the first glove the instructions for the second read 'reverse all shaping'. AHHAAHAHAHAHAH!
When you create glove fingers there's a good chance you'll end up with gaps in the knitting between the fingers. No matter how hard I tried to avoid this I ended up filling in two or three as I wove in the yarn ends. However, to cut a long story short, when the first glove was finished I decided it was too small. Chain mail sprang to mind when I put it on and tried to bend my fingers. I knew it wasn't good enough, so I started again in DK and did the fingers in the larger size needle. It was a bit frustrating to be starting again but knitting the first one had been a very valuable lesson and it meant I had a glove for reference as I started again.
In fact, shaping the second glove wasn't a problem, or at least nothing like I expected it to be when I saw the instructions boiled down to a single sentence. It helped to line it up with my hand whenever I had a 3D visualisation fail, something that's the norm for me. My verdict on knitting this type of glove is that it's a right faff and I think this particular pattern comes out on the small side, but in a perverse way I'm glad to have had the experience.
Music credit:
"Carpe Diem" Kevin MacLeod (incompetech.com)
Licensed under Creative Commons: By Attribution 3.0 License
https://creativecommons.org/licenses/by/3.0/