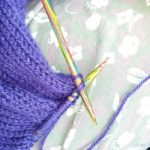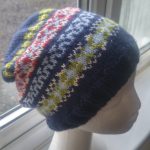 Welcome to Floats, episode 72 of The Ordinary Knitter, the knitting podcast that's (mostly) about the projects. Find it on iTunes or acast, or subscribe via the feed link on the right hand bar (https://www.theordinaryknitter.net/feed/podcast).
My name is Heather and I'm @theordknitter on Twitter, @theordinaryknitter on Instagram and @ordinaryknitting on Ravelry. This week: keeping your floats in their place, teeny tiny hats, and the joy of four ply.
Ft patterns:
Ft cast ons
Ft techniques
K2tog tbl (knit 2 together through the back loop)
Floats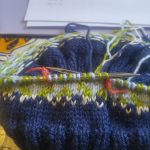 Floats are the little stretches of yarn that sit loose on the wrong side of a piece of Fair Isle knitting. To prevent great dangly stretches of yarn flopping about on the wrong side, the unused yarn is anchored every so often to keep it under control. You can have vertical floats, when a yarn completely unused for at least a couple of rows is tethered but taken up the work until needed, and horizontal floats, when yarn not needed for a section is kept tidy until needed. There are no hard and fast rules, but it's common to anchor a float every five stitches or so if a yarn isn't needed for a longish section of a round. If it isn't needed at all it can just be taken upwards.
Keeping floats neat and properly tensioned can be tricky, but develops well with practice. The two biggest banana skins are pulling too tightly, and anchoring in the same place on each round. Pulling floats too tightly is tempting when you're inexperienced with it, but it wrecks the overall look of a piece so it to be avoided. Keeping the piece at a natural tension – the magic Goldilocks zone of not too tight and not too loose  – is what you're looking to achieve. Floppy floats create a poor effect too, as the stitches you make with that yarn when you need it again will be at a tension all at odds with the rest of the piece.
Anchoring floats in the same place every time gives rise to a visible streak of colour on the right side. Combating this is simple, just make sure floats are anchored in different points each time. As I explain in the pod, if I'm anchoring vertically because a colour isn't needed for a few rows, I choose a stitch within a five or six stitch section and choose a different one each time. It isn't necessary IMHO to anchor an unused yarn on every round anyway, so it usually all works out okay. The only way to master floats is practice, but if I can do it it can't be that hard!
Music credit:
"Carpe Diem" Kevin MacLeod (incompetech.com)
Licensed under Creative Commons: By Attribution 3.0 License
http://creativecommons.org/licenses/by/3.0/