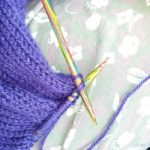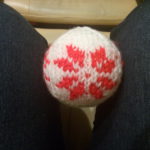 Welcome to episode 35 of The Ordinary Knitter, the knitting podcast that's (mostly) about the projects. My name is Heather and I'm @theordknitter on Twitter, @theordinaryknitter on Instagram and @ordinaryknitting on Ravelry. This week: Christmas knitting. That really is the be all and end all at the moment, not helped by me continuously deciding to add new projects as 'quick' presents. As I write Ihave one pair of socks left to weave in ends (not sure I'll bother blocking), another pair on the needles, one hat recovering from its steam blocking on my polystyrene head, and one pair of wristwarmers still to cast on for. Nuts. Apologies for being a bit topsy turvy this week but I didn't have access to my notes until part way through. Apologies that New to Me is so quiet – I need to tinker around over the holidays and iron out those final gremlins.
Ft knitting patterns
Ankle Socks – no pattern for these or any photos yet
Christmas Knitting
Is it humanly possible to start early enough? Or decide you've really finished and aren't going to 'quickly' start any more projects? I've thrown in at least two projects that I hadn't expected to do and I know I've rushed the ones I have done, but they've all been knitted with love, which I think is the point.
Music credit:
"Carpe Diem" Kevin MacLeod (incompetech.com)
Licensed under Creative Commons: By Attribution 3.0 License
http://creativecommons.org/licenses/by/3.0/