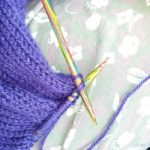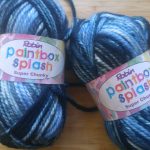 Welcome to Super Chunky, episode 69 of The Ordinary Knitter, the knitting podcast that's (mostly) about the projects. Find it on iTunes or acast, or subscribe via the feed link on the right hand bar (https://www.theordinaryknitter.net/feed/podcast).
My name is Heather and I'm @theordknitter on Twitter, @theordinaryknitter on Instagram and @ordinaryknitting on Ravelry. This week: socks, cowls, brioche knitting, yarn shopping and stash, plus a first in the village show but was it for the beret?
Ft patterns: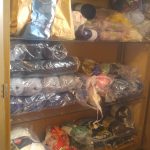 Super chunky
Super chunky, known also as super bulky, is one of the thickest yarns you're likely to use on any ordinary project. Substantially heavier than aran, it tens to be used for warm swathing items such as hats and scarves. It's definitely designed for warmth! It's knitted up with big needles, 9mm or 10mm,  which can come as quite a shock after the usual 4-6mm you'd use for DK or Aran.
One of the joys of super chunky, speaking as a project knitter, is that it knits up really fast. I've made super chunky projects before – this Quick Cabled Cowl in Patons Fab Big Colour being one of my favourites, I wear it every year – but other than that I knit with it rarely. I admit to being driven entirely by colour scheme than yarn weight in this instance, but we all have our weaknesses!
I'll be knitting another cowl, probably Herringbone Cowl by Wollen Berlin if I can get the hang of creating the herringbone effect they way they write it. So far I've found the stitches are coming out almost too tight to manipulate, so I just pulled it all out last night. The alternative is creating a simple ribbed cowl which is a good fall back, but I'm getting a bit ribbed out just now with socks on the go too and fancied a change.
Music credit:
"Carpe Diem" Kevin MacLeod (incompetech.com)
Licensed under Creative Commons: By Attribution 3.0 License
http://creativecommons.org/licenses/by/3.0/