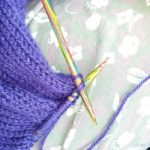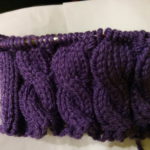 Welcome to episode 31 of The Ordinary Knitter, the knitting podcast that's (mostly) about the projects. My name is Heather and I'm @theordknitter on Twitter, @theordinaryknitter on Instagram and @ordinaryknitting on Ravelry. This week: cabling without a needle, Little Houndales Wristwarmers, projects for 4 ply, more Capitan hats, and KnitPro cubics. I'll be making a big effort to get this this pod online rather quicker than I did the last! Guess what? The buzz is back. I think my headphones with built-in microphone might be starting to show their age.
Ft knitting patterns:
Cabling without a needle
I've done a fair bit of cabling recently, between the To the Sea jumper, several Capitan Hats and the Ivy wrap top. I like cables and have no objection to knitting them, but if the cable section recurs frequently it can become quite fiddly swapping between regular needles and the cable needle all the time. Ivy's twisted rib cuff is a great example of this, so I tried cabling without a needle (a cable needle, that is – obviously I used knitting needles) and it went really really well. It helps that the 'pulled across' stitch on Ivy is a big loop that's been slipped for the last few rounds so it won't be pulled out by the merest movement of your piece.
The principle of cabling is that you rearrange the stitches on the needle and then knit them as normal. It does mean that there are live stitches off the needles briefly while you line everything up but as long as you're gentle with the piece you should avoid disaster. It does depend on the project and the yarn though. It hasn't gone so well on the Capitan that I'm working on just now so I've given in an used an old DPN. I'll be interested to see how it goes with the next cable project and different yarns.
Music credit:
"Carpe Diem" Kevin MacLeod (incompetech.com)
Licensed under Creative Commons: By Attribution 3.0 License
http://creativecommons.org/licenses/by/3.0/