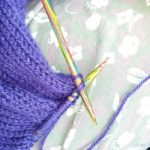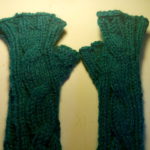 Welcome to episode 33 of The Ordinary Knitter, the knitting podcast that's (mostly) about the projects. My name is Heather and I'm @theordknitter on Twitter, @theordinaryknitter on Instagram and @ordinaryknitting on Ravelry. This week: The Beeb's new Fair Isle programme, failing to keep presents secret, Mistake Braid socks, what to make with 4 ply and introducing New to Me, a new section that mentions new knitting discoveries I make. Apologies for getting so over-excited about the One Cable Mitt reveal – I think you had to be there.
Ft podcasts:
Ft knitting patterns:
Ft knitting books:
Ft yarns:
New to Me
ChiaoGoo needles, as featured on Twitter's #knittinghour.
Fair Isle
You know that's actually a place and not just a technique, right? I long to do some Fair Isle knitting (or my own poor stab at it) but haven't yet had the right opportunity to prioritise a Fair Isle pattern over everything else. The BBC has recently started broadcasting a series about life on Fair Isle and it's fantastic – I insist you watch it. I've really been surprised at how central knitting is to life on the Island. Time to knit is worked into the day and selling the finished articles is vital to the island economy. I was particularly struck by the value that's placed on the knitting. Proper prices are charged for items that have taken hours of skill to create. It was heart-warming to see and long may it continue.
Music credit:
"Carpe Diem" Kevin MacLeod (incompetech.com)
Licensed under Creative Commons: By Attribution 3.0 License
http://creativecommons.org/licenses/by/3.0/