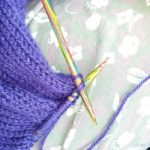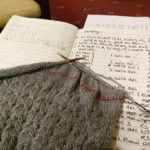 Welcome to episode 37 of The Ordinary Knitter, the knitting podcast that's (mostly) about the projects. My name is Heather and I'm @theordknitter on Twitter, @theordinaryknitter on Instagram and @ordinaryknitting on Ravelry. This week: the Ivy wrap top – from despair to delight, casting on for another big project, and my new KnitPro Nova needles. This year is going to feature much more knitting for myself, so shaping is going to rear its head over and over again. I think it's going to be a long and painful experience but very rewarding. I already want a dressmaker's dummy.
Ft knitting patterns:
Ft knitting needles
Shaping
It's vital for many garments, especially something designed to fit closely or be particularly flattering, ie where the fit matters. The front pieces of the Ivy wrap top have shaping on the waist and the neckline edge and like many tops several different elements of shaping have to be worked at the same time. Stupidly, all my confusion with Ivy sprang fron the fact that the waist increases happened at one end of the RS and the neckline decreases happened at the other end of the RS, while the arm decreases happened when you reached a certain length of work. Despite an expensive education and lots of help from other Ravellers, I couldn't grasp that because without realising it I'd formed a mental picture that couldn't be shaken and didn't fit with the help I was being given. Another day, another frame of mind and it all made sense, although I do need to plot out row-by-row which increase happens on which line. Thank you to #knittinghour on Twitter for prompting me to look at the thread again, when the penny clanged into place.
Music credit:
"Carpe Diem" Kevin MacLeod (incompetech.com)
Licensed under Creative Commons: By Attribution 3.0 License
http://creativecommons.org/licenses/by/3.0/