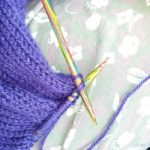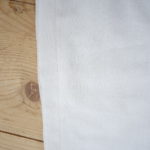 Welcome to episode 47 of The Ordinary Knitter, the knitting podcast that's (mostly) about the projects. My name is Heather and I'm @theordknitter on Twitter, @theordinaryknitter on Instagram and @ordinaryknitting on Ravelry. This week: knitting a sleep mask for a tricky customer, Herz pattern review, rummaging in Clever Betsy and my first go on a sewing machine in 30 yrs. I hope you'll forgive me for including a dressmaking element. At the moment it's new and exciting and I can't help sharing my enthusiasm.
Ft knitting patterns:
Sleep Mask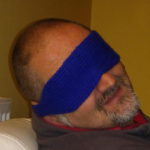 My husband has slept in a sleep mask ever since I've known him. Over the years he's gone through novelty masks, aeroplane-issue slinky masks – he doesn't like those as he finds them sweaty – and even in an emergency slept with a top wrapped round his head. The other morning I found him in a woolly hat, because the mask he's used for the last couple of years has suddenly disappeared. That had started life as a the Braided Cowl for Kids, which my son wouldn't touch with a bargepole for no apparent reason. A new sleep mask was needed so I started looking. I had considered knitting another cowl to repurpose as a mask but really it's too big and heavy for the warmer weather. He didn't want anything with ties at the back as they would be fiddly and uncomfortable, so between us we settled on Cotton Sleep Mask by Patti Anne. This is a free Ravelry download, kknit on 3.5mm needles with aran yarn. The close knit is ideal for blocking out the light and the 1×1 rib gives it a good stretchy texture. My son wants one now and my husband would like a spare, so I'll be churning these out for the next couple of days. After that, maybe a man jumper.
Music credit:
"Carpe Diem" Kevin MacLeod (incompetech.com)
Licensed under Creative Commons: By Attribution 3.0 License
http://creativecommons.org/licenses/by/3.0/