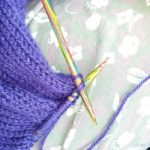 Welcome to The Ordinary Knitter, a knitting podcast discussing projects, yarns and patterns. This week: Prince Charles on wool, finishing THAT jumper and THAT hat, which project next for myself, and knitting slouchy socks for my daughter. I hope the sound is okay for you – please let me know if it's too quiet. Turning down the recording volume makes a huge difference to the hiss, but I hope we haven't turned it down too far. Oh and I met Prince Charles once, and he made a condom joke.
Ft knitting patterns:
Snug Hat by Cathy Carron
Worsted Weight Sock Recipe by Hippie Chick Knits – I've looked and looked and can't find this pattern on the web. I wonder where it came from and just how long ago I downloaded the PDF?
Dr Who jumper – based on Lawrence but heavily modified.
Slouchy socks: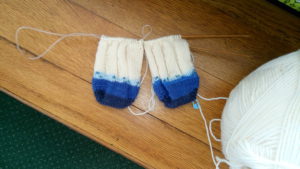 My daughter was given a pair of slouchy socks by a friend of hers last Christmas, and has worn them so much they have holes in them. To my astonishment she voluntarily sewed up some of the holes the other night – she's even worse at sewing than I am so you could have knocked me over with a feather. I've just finished a couple of projects, and as you do as you weave in ends and mattress stitch seams (well,as I do), I planned my next projects. I wanted to make some more slouchy socks for DD and had a decorative scheme in mind, so I cast on last night and they're going well. Being in aran yarn on a needle much larger than I usually use for socks they're speeding along. If they turn out well (and she actually wears them, not guaranteed with a teenager) I'll do another pair in stranded colourwork. I have a pattern for DK boot socks but they're knitted cuff down, which gives me the shivers. I should probably do them though and not become too entrenched in my sock kniting comfort zone.
Save
Save