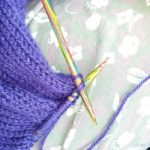 Chainmail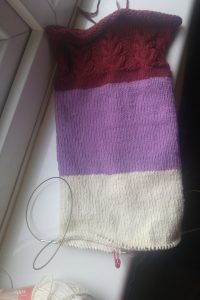 Welcome to Chainmail, episode 63 of The Ordinary Knitter, the knitting podcast that's (mostly) about the projects. Find it on iTunes or acast, or subscribe via the feed link on the right hand bar (https://www.theordinaryknitter.net/feed/podcast).
My name is Heather and I'm @theordknitter on Twitter, @theordinaryknitter on Instagram and @ordinaryknitting on Ravelry.  This week: chainmail, how creative are you?, gauge, short tips and a parcel from Wool Warehouse.
Ft knitting patterns:
Ft tutorials
Ft links
Chainmail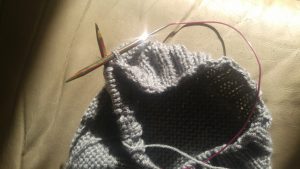 Not for the first time, I've been merrily working on 'scheduled' knitting, when something crops up that demands a knitted response (clearly I'm actually wildly creative). On this occasion it's a children's story-telling workshop that's part of this weekend's Leominster Medieval Fair. My mum was telling me about it as she's helping to run it and is taking my son along. Obviously the occasion would be incomplete without a knitted chainmail helmet.
I looked at lots of patterns but as I don't have grey worsted or aran, but lakes of grey DK, I was drawing a blank as most patterns were written for a chunkier yarn. I then came across the pattern Monty's Knight's Helmet, link above. The picture showing the little boy wearing it is really cute and I think the helmet looks quite convincing. This pattern had the huge advantage of using a double strand of DK, allowing me to take another nibble out of my embarrassingly huge stash of grey acrylic. Don't forget I have lots of grey acrylic to swap or sell so if you want a skein to make one of these please do get in touch.
However this was a partial pattern. The Ravelry page above is to a project page which is itself based on a balaclava pattern that's no longer available online. The project page includes basic instructions, but once you have a ring of neck ribbing and a large flap going over the back of the head, you're on your own. I was delighted when bit by bit, tongue sticking out, I worked out what I needed to do to turn it into the finished article. I'm ridiculously pleased with myself, but my son has now requested a chainmail tunic too!
Music credit:
"Carpe Diem" Kevin MacLeod (incompetech.com)
Licensed under Creative Commons: By Attribution 3.0 License
http://creativecommons.org/licenses/by/3.0/