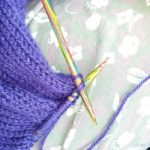 Episode 12: Shrug construction
Welcome to episode 12 of The Ordinary Knitter. This week: Ding Dong the socks are done!, (more) birthday present knitting, shrug construction, camisoles and sports weight yarn. Realise I still haven't sorted out the layout issues or steeled myself to tussle with iTunes. Quite honestly, I think I'd rather tidy my 7 year old's bedroom. Which I have to do after this.
Ft knitting patterns:
Ft knitting videos:
Ft knitting yarns:
Shrug Construction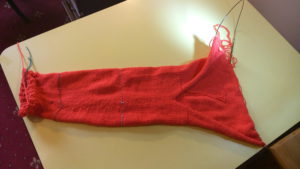 That there is half a shrug, the Purl Soho Evening Shrug (the pattern is now mysteriously offline). I've shown the wrong side as you get a clearer idea of the construction. The point of the V is where the sleeve sits in the armpit and the flat piece forms half the back. I haven't tried it on yet but rest assured I will, to make sure it does actually reach the middle of my back.
I've decided not to be a maverick and do it in one piece (I seriously considered it) but instead follow the recommendation in he pattern and graft the two pieces with the three needle bind off. This is a new technique for me, but the PlanetPurl video makes it look doable.
Sports Weight Yarn
I'm looking at 5ply for camisole patterns, and it seems to be more popular in the States than it is here. I have found some though, and am now sorely tempted, not least because it's very affordable and of course camisoles don't use a vast amount of yarn. I'm very tempted by both Debbie Bliss Eco Baby Cotton and Debbie Bliss Eco Baby Cotton Prints, the latter in a lovely fresh green and white colourway and the former, pfff, can't decide. You could pick four colours at random and they'd all go together.
My knitting list:
Birthday cloth
Finish shrug
Camisole
Socks?
Save
Save
Save