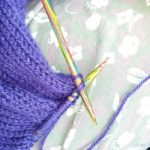 Episode 7: Sock knitting
Welcome to episode 7 of The Ordinary Knitter. This week: the joy of weaving-in ends, sock knitting, Ravelry pattern comments, good habits and fighting with technology.

Ft knitting patterns:
Ft knitting videos:
Knitting socks: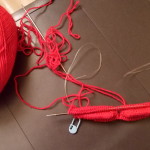 As promised in the podcast, here is the outline of how I make my socks. I won't call it a pattern as that implies some ingenuity and originality in designing an item, and all I've done is combine others' techniques. My School Run Socks (so named as I get a lot of knitting done as I wait at school in the afternoon) go something like this:
CO 16st per sock per needle(for wide feet), total 32st per sock, using Judy's Magic Cast-on.
Increase 1st each end of row top and bottom of sock every other row (inc 4st per sock each time) til total 80st per sock. At this point begin patterning the top of the foot however you choose. My current pair is rib as that's what my husband asked for.
When the sock reaches the front of the ankle bones, begin increasing for the heel. Err on the side of generosity as a sock that's too short is impossible to wear, but don't get carried away as you don't want it baggy on the ankle either.
Turn the heel using the Fleegle heel.
Knit up the leg taking the pattern all the way round the leg. Where it suits you, begin a minimum of 2″ 1×1 rib. I usually do about 3″ as that's my husband's preference.